Bang on a Can Marathon Live Online – MaerzMusik Edition presented by Berliner Festspiele
March 21, 2021 @ 2:00 pm

-

6:00 pm

CDT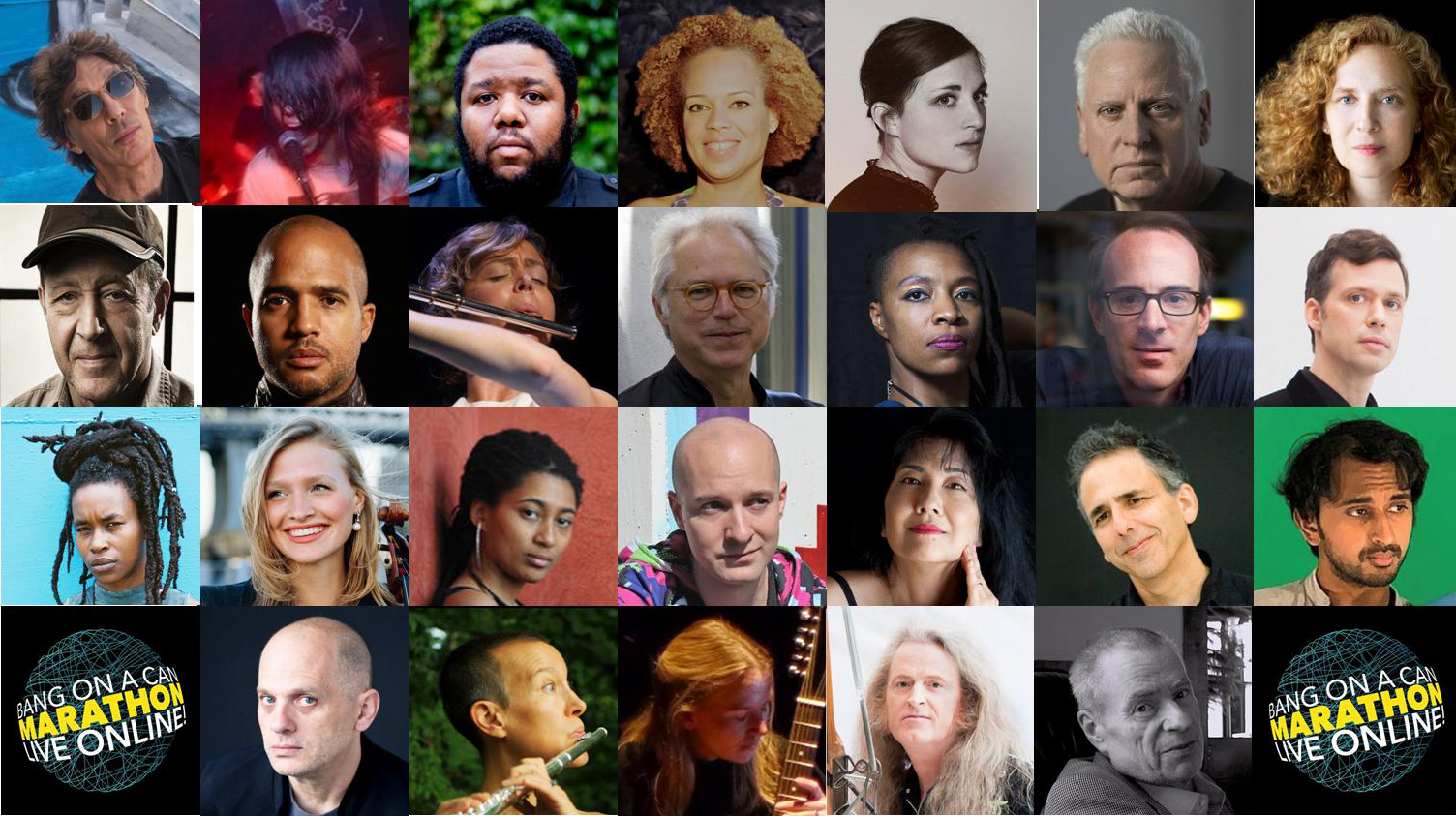 The Bang on a Can Marathon Live Online – MaerzMusik Edition presented by Berliner Festspiele – features four hours of live performances from both sides of the Atlantic, reflecting the diversity and breadth of the Bang on a Can community. Featured artists include Tomeka Reid, Bill Frisell, Mazz Swift, Arnold Dreyblatt, Steve Reich, and more.
This special edition live Marathon will be hosted by Michael Gordon, David Lang, and Julia Wolfe, and in part by MaerzMusik Artistic Director Berno Odo Polzer. The Bang on a Can Marathon is one of many events taking place during the MaerzMusik Festival 2021, running March 19-28.
Date & Time: Sunday, March 21, 2021 2-6 pm CT | 3-7pm ET | 8p-12m CET
Learn more & get tickets here.
Hourly Schedule (Set times are approximate and subject to change.)
3PM NEW YORK | 8PM BERLIN
Daniel Bernard Roumain Why Did They Kill Sandra Bland? performed by Arlen Hlusko
Arnold Dreyblatt
Mazz Swift
Rohan Chander △ or THE TRAGEDY OF HIKKOMORI LOVELESS from FINAL//FANTASY performed by Vicky Chow
4PM NEW YORK | 9PM BERLIN
Kristina Wolfe Listening to the Wind performed by Molly Barth
Miya Masaoka
Aeryn Santillan disconnect. performed by Ken Thomson
Adam Cuthbert
5PM NEW YORK | 10PM BERLIN
Ken Thomson Birds and Ambulances performed by Robert Black
Tomeka Reid Lamenting G.F., A.A., B.T., T.M. performed by Vicky Chow
Steve Reich Vermont Counterpoint performed by Claire Chase
Christina Wheeler
Molly Joyce Purity performed by David Cossin
6PM NEW YORK | 11PM BERLIN
Tyshawn Sorey
Jeffrey Brooks Santuario performed by Mark Stewart
Moor Mother
Bill Frisell