Tuesday, April 25th, 2023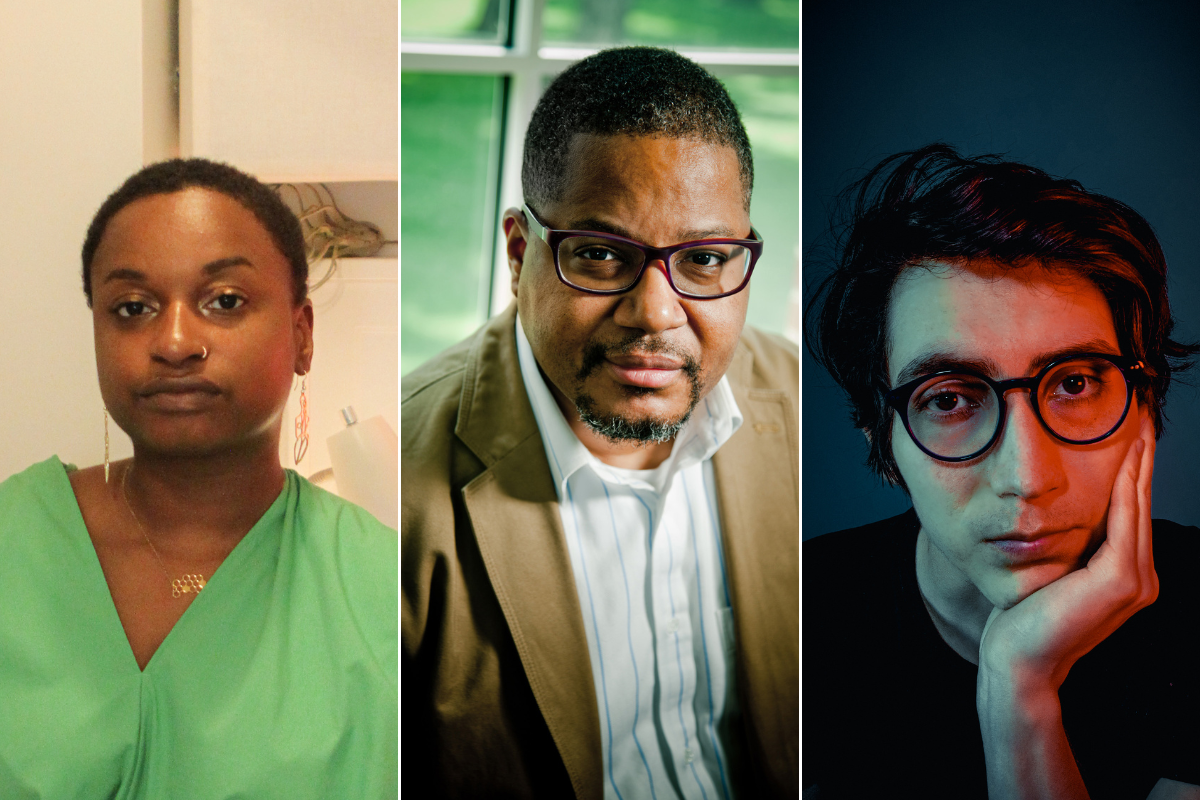 Students from Juilliard's Music Advancement Program (MAP) will perform side by side with musicians from the New York Philharmonic on Saturday, May 6, at Lincoln Center's David Geffen Hall.The program includes three world premieres, by composers Jordyn Davis, James Díaz, and Trevor Weston. The Davis and Díaz premieres are part of the two-year Composing Inclusion program: a partnership between Juilliard, the New York Philharmonic, and the American Composers Forum (ACF), powered by the Sphinx Venture Fund.
Composing Inclusion brings together composers with advisors and musicians of different ages, perspectives, communities, and levels of musical training to create and perform new music together. The program is a unique partnership between the three organizations that invites multiple generations to collaborate with living composers to create "flexible" or adaptable new scores. Through this unique approach for side-by-side learning opportunities, the new compositions provide multiple-part options for both young and seasoned musicians to play together seamlessly. Davis, Díaz, and Weston worked closely with Juilliard's MAP students, teachers, and the other program partners to develop the new scores through a participatory leadership process.
The May 6 concert is part of the NY Phil's Young People's Concerts, a 99-year-old series for children and their families, and it marks the first time that Juilliard's MAP Orchestra — whose players range from age 10 to 18 — will play at the newly transformed David Geffen Hall and with members of the NY Phil.
The NY Phil will open the program with the chamber version of Aaron Copland's Appalachian Spring. The three new works for orchestra — by Davis (As I Am), Díaz (and does the Moon also fall?), and Weston (Subwaves) — will be performed by about 30 NY Phil musicians with 50 MAP students under the baton of Bortolameolli, associate conductor of the Los Angeles Philharmonic. All three composers chose to connect with New York City in their commissions, emphasizing how valuable community is in creating unique and inclusive work.
Davis' As I Am blends elements of jazz and classical music into a piece that tells a story about continuing to get to know and love oneself, and how we are at our best when we embrace ourselves for who we are.
"It has been a dream come true to create a new piece that will be performed by so many enthusiastic and talented musicians," Jordyn Davis says. "The musicians from the NY Phil have provided insight, clarity, and context on the various ways to create a piece that equally empowers students and professional musicians. I hope that folks continue to engage with As I am no matter what level of performing, musical education, or stage of life they may be in."
Díaz's and does the Moon also fall? is a soundscape written for orchestra that brings the composer's experience with electronics and synthesizers to the orchestral instruments, exploring the creative possibilities of color and sonority.
"I hope my orchestra work offers musicians and audiences a deep appreciation for the emotional sonic power and intellectual curiosity that music can inspire. I want my music to physically move people," James Díaz says. "I have learned that patience, persistence, and a willingness to collaborate and learn from others are essential when working with multiple generations in the classical music community. I am grateful for the opportunities I have had to share my work with this vibrant and diverse community."
Weston, a composer as well as a MAP and Pre-College faculty member, served as advisor to both Davis and Díaz throughout the composition process. His Subwaves is co-commissioned by the three Composing Inclusion partners, Juilliard, NY Phil, and ACF, and is funded, in part, with support from the National Endowment for the Arts. Impressions of the New York subway system served as the inspiration for his work.
"One of the many benefits of Composing Inclusion has been working with composers who have similar interests in cultural expression and having the space to exchange ideas," Trevor Weston says. "Writing music for talented students and the New York Philharmonic has been a fascinating learning experience for all of us. My commission, Subwaves, is a musical response to taking the subway—an experience shared by many in the New York City metro area. Subwaves is a custom-made piece for MAP students. Their participation was essential and many of their suggestions were incorporated in the final work."
The two-year Composing Inclusion program was initiated by Weston Sprott, dean and director of Juilliard's Preparatory Division, and it furthers the division's efforts to build a more diverse and inclusive repertoire for young musicians. Sprott worked closely with Gary Padmore, the New York Philharmonic's vice president of education and community engagement, and Vanessa Rose, ACF's executive director, to develop the program. Carolina Heredia, ACF's director of artist support, and Anthony McGill, artistic director of MAP and NY Phil principal clarinet, have been active partners. Catherine Birke, MAP's music director, led the preparation of the MAP Orchestra for the May 6 concert.
As part of Composing Inclusion, a new work for string ensemble by Thomas Flippin premiered on April 2 at Mother AME Zion Church. May 6 marks the first of two collaborative orchestral performances with musicians from Juilliard's Preparatory Division and musicians of the NY Phil. The second side-by-side concert will take place April 20, 2024, with pieces by Nicolas Lell Benavides and Andrés Soto, also as part of a Young People's Concert. Composing Inclusion works for brass, wind, and percussion ensembles by Jasmine Barnes, Elijah J. Thomas, and Lauren McCall, respectively, will receive their premieres during the 2023-24 season and will be performed by members of the NY Phil and students from Juilliard's Preparatory Division.
ACF oversaw the Composing Inclusion composer selection, which attracted 71 applicants, and has actively supported them throughout the collaborative process. The applications were reviewed by Sprott, Padmore, Rose, composer Trevor Weston, and NY Phil composer and teaching artist Jacinta Clusellas. The 22 finalists advanced to an interview round that also included Jessica Mays, composer and former manager of the NY Phil's Very Young Composers Program, and Anthony McGill, MAP artistic director and NY Phil principal clarinet. Nine composers were selected for the Composing Inclusion two-year program.
ABOUT THE ARTISTS
Jordyn Davis (b. 1995) is an award-winning bassist, composer, songwriter, vocalist, and multi-instrumentalist from Detroit. In 2019, Davis became the first African American woman to receive a bachelor's degree in music composition from Michigan State University as well as the first Michigan State student to receive a bachelor's in music composition and jazz studies concurrently. She has performed and worked with artists such as Michael Dease, Brian Stokes Mitchell, Wycliffe Gordon and the Black Excellence Trombone Choir, Ingrid Jensen, Etienne Charles, Dee Dee Bridgewater, Craig Harris, Maria Schneider, Jerome Jennings, and William Delisfort. Davis is also the proud leader of her own band, Composetheway. Since completing a master's in jazz studies at Michigan State, she moved to Brooklyn. She is one of two inaugural Jazz Leader Fellowship recipients from the Brooklyn Conservatory of Music, has been featured on Music for Social Justice (PBS), and is a teaching artist for the Detroit Symphony Orchestra.
James Díaz is a Colombian-born composer and sound maker who strives to create unique sonic textures, sound masses, and interactive environments. Deeply influenced by the concept of psychedelia, his music also draws from elements of graphic design, Latin-American landscapes, and photography. Serving as the 2019 composer in residence for the Medellin Philharmonic, Díaz premiered RETRO, his concerto for orchestra and electronics.  His music has been performed by orchestras such as the WDR Sinfonieorchester, Basel Sinfonietta, National Symphony of Colombia, American Composers Orchestra, Medellin Philharmonic, Xalapa Symphony Orchestra, Nashville Symphony, Bogotá Philharmonic, Orchestra of St. Luke's, and EAFIT Symphony, and by ensembles such as Longleash, Yarn/Wire, Sō Percussion, and National Sawdust Ensemble. He is working on his studio album "[speaking in a foreign language]" with violinist Julia Suh.
Trevor Weston's honors include the George Ladd Prix de Paris from the University of California, Berkeley; a Goddard Lieberson Fellowship and the Arts and Letters Award in Music from the American Academy of Arts and Letters; and residencies from the Virginia Center for the Creative Arts and the MacDowell Colony. Carnegie Hall co-commissioned Weston's Flying Fish with the American Composers Orchestra for its 125 Commissions Project. Bang on a Can All-Stars premiered Weston's Dig It, for the Ecstatic Music Festival in NYC. Weston's work Juba for Strings won the 2019 Sonori/New Orleans Chamber Orchestra Composition Competition. Weston won the first Emerging Black Composers Project, sponsored by the San Francisco Conservatory of Music and the San Francisco Symphony. He is a professor of music and the chair of the music department at Drew University in Madison, New Jersey, and an instructor for Juilliard's MAP and Pre-College programs.
MAP is generously supported through an endowed gift in memory of Carl K. Heyman.
Lead support for New York Philharmonic Young People's Concerts is provided by Evalyn E. and Stephen E. Milman.
Major support for the New York Philharmonic Very Young Composers Program is provided by Susan and Elihu Rose.
Jordyn Davis' and James Díaz' commissions are part of Composing Inclusion: a collaboration between the New York Philharmonic, American Composers Forum, and Juilliard's Preparatory Division, made possible with funding from the Sphinx Venture Fund.
Trevor Weston's work was co-commissioned by American Composers Forum, Juilliard's Preparatory Division, and the New York Philharmonic. It was funded, in part, with support from the National Endowment for the Arts.
---
About The Juilliard School 
Founded in 1905, The Juilliard School is a world leader in performing arts education. The school's mission is to provide the highest caliber of artistic education for gifted musicians, dancers, and actors, composers, choreographers, and playwrights from around the world so that they may achieve their fullest potential as artists, leaders, and global citizens. Led by President Damian Woetzel since 2018, Juilliard is guided in all its work by the core values of excellence; creativity; and equity, diversity, inclusion and belonging (EDIB). Juilliard is committed to enrolling the most talented students regardless of their financial background. 
Located at Lincoln Center in New York City, Juilliard offers undergraduate and graduate degrees in dance, drama (acting and playwriting), and music (classical, jazz, historical performance, and vocal arts). Currently more than 800 artists from 43 states and 44 countries and regions are enrolled in Juilliard's College Division, where they appear in more than 700 annual performances in the school's five theaters; at Lincoln Center's Alice Tully and David Geffen halls and at Carnegie Hall; as well as at other venues around New York City, the country, and the world. The continuum of learning at Juilliard also includes nearly 400 students from elementary through high school enrolled in the Preparatory Division, including its Music Advancement Program (MAP), which serves students from diverse backgrounds often underrepresented in the classical music field. More than 800 students are enrolled in Juilliard Extension, the flagship continuing education program taught both in person and remotely by a dedicated faculty of performers, creators, and scholars. Beyond its New York campus, Juilliard is defining new directions in performing arts education for a range of learners and enthusiasts through a global K-12 educational curricula and graduate studies at The Tianjin Juilliard School in China.  
About Juilliard's Preparatory Division and the Music Advancement Program
The cornerstones of Juilliard's Preparatory Division are two Saturday music programs for students ages 8 to 18, Pre-College and the Music Advancement Program (MAP). The Juilliard School has an ongoing commitment to the principles and practices of inclusiveness and strongly encourages applications from students of diverse backgrounds. Financial aid, up to and including full-tuition scholarships, is available for both programs.
MAP is a Saturday program for intermediate and advanced music students from New York City's five boroughs and the tristate area who demonstrate a commitment to artistic excellence. The program actively seeks students from diverse backgrounds underrepresented in the classical music field. Through a rigorous curriculum, performance opportunities, and guidance from an accomplished faculty, MAP students gain the necessary skills to pursue advanced music studies while developing their talents as artists, leaders, and global citizens. Approximately 70 students are enrolled in MAP, which is led by Artistic Director Anthony McGill. All MAP students receive full-tuition scholarships.
About the New York Philharmonic
The New York Philharmonic connects with up to 50 million music lovers each season through live concerts in New York and around the world as well as broadcasts, recordings, and education programs. The 2022–23 season marked a new chapter in the life of America's longest-living orchestra with the opening of the reimagined David Geffen Hall and programming that engages with today's cultural conversations through explorations of HOME, LIBERATION, SPIRIT, and EARTH, in addition to the premieres of 16 works. This marked the return from the pandemic, when the NY Phil launched NY Phil Bandwagon, presenting free outdoor performances across the city, and 2021–22 concerts at other New York City venues.
The Philharmonic has commissioned and / or premiered important works, from Dvořák's New World Symphony to Tania León's Pulitzer Prize–winning Stride. It has released more than 2,000 recordings since 1917, streams performances on NYPhil+, and shares its extensive history free online through the New York Philharmonic Shelby White & Leon Levy Digital Archives.
Founded in 1842, the New York Philharmonic is the oldest symphony orchestra in the United States and one of the oldest in the world. Jaap van Zweden became music director in 2018–19, succeeding titans including Bernstein, Toscanini, and Mahler. Gustavo Dudamel will become the NY Phil's music and artistic director beginning in the 2026–27 season, after serving as music director designate in 2025–26.
About American Composers Forum
ACF supports and advocates for individuals and groups creating music today by demonstrating the vitality and relevance of their art. We connect artists with collaborators, organizations, audiences, and resources. Through storytelling, publications, recordings, hosted gatherings, and industry leadership, we activate equitable opportunities for artists. We provide direct funding and mentorship to a broad and diverse field of music creators, highlighting those who have been historically excluded from participation.
Founded in 1973 by composers Libby Larsen and Stephen Paulus as the Minnesota Composers Forum, the organization continues to invest in its Minnesota home while connecting artists and advocates across the United States, including its territories and the sovereign Native nations. ACF frames our work with a focus on racial equity and includes within that scope, but does not limit it to diverse gender identities, musical approaches and perspectives, religions, ages, (dis)abilities, cultures, backgrounds, sexual orientations, and broad definitions of "American."
About The Sphinx Organization
The Sphinx Organization is the social justice organization dedicated to transforming lives through the power of diversity in the arts. Sphinx's four program areas—Education & Access, Artist Development, Performing Artists, and Arts Leadership— form a pipeline that develops and supports diversity and inclusion in classical music at every level: music education, artists performing on stage, the repertoire and programing being performed, the communities represented in audiences, and the artistic and administrative leadership within the field.
Sphinx programs reach more than 100,000 students and artists, as well as live and broadcast audiences of more than two million annually.