Grandmother Song is an introduction to the Mohican tradition of "sung syllables" or what Native Americans call "vocables." Combining them with traditional wood flute songs, composer Brent Michael Davids offers a fresh look at the sound of Native American songs. Band instruments are performed less as musical instruments and more as talking sticks, singing reeds, rustling winds and shooting thunder. Through this ballad, performers are given the materials to understand how Native Americans celebrate the world around them through the blending of words and song.
Instrumentation
1-Conductor
6-Voice
6-Flute
2-Oboe
2-Bassoon
6-B flat clarinet 1
6-B flat clarinet 2
2-B flat bass clarinet
2-E flat alto saxophone 1
2-E flat alto saxophone 2
2-B flat tenor saxophone
1-E flat baritone saxophone
4-B flat trumpet 1
4-B flat trumpet 2
4-F horn
4-Trombone
2-Baritone B.C.
2-Baritone T.C.
4-Tuba
1-Percussion 1: bass drum
2-Percussion 2: triangle
1-Percussion 3: suspended cymbal/orchestra bells
1-Vibraphone
1-Timpani
Meet The Composer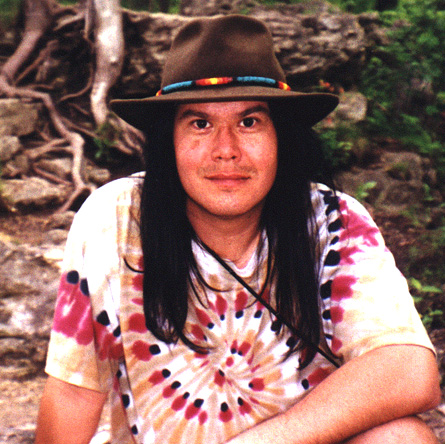 Brent Michael Davids is a young composer whose music moves between the worlds of the Kronos Quartet, Joffrey Ballet and Native American Song. Mr. Davids, a member of the Mohican Nation, is an internationally recognized Composer whose music features elements of Native American tribal music combined with Western compositional techniques. Davids has composed for very different ensembles and genres demonstrating his skill and versatility attained from his classical training, and often uses traditional Native American instruments of his own design in his compositions, including flutes made of quartz crystal.
In addition to extensive performances of his works in the US and abroad by the Kronos Quartet (The Singing Woods, '94; Turtle People, '95; Native American National Anthem, '96); the Joffrey Ballet (Moon of the Falling Leaves, '91), and the National Symphony Orchestra (Canyon Sunrise, '95), Davids has received numerous awards from organizations such as the NEA, Meet the Composer, ASCAP, the Rockefeller Foundation, and the Sundance Institute.
Davids holds a Bachelor degree and Master degree in composition from Northern Illinois University and Arizona State University respectively. Recently, Davids was invited to be one of six composers invited to Robert Redford's Sundance Institute Film Lab (1998) where he created music for Sherman Alexie's film "Indian Killer" and received shouting applause for the score, and he was featured on a segment of "CBS Sunday Morning" (1998) with Charles Osgood and Eugenia Zuckerman. Davids recent collaboration with Joe Myers has resulted in a number of new instrumental songs for an all Quartz Crystal Flute and Guitar CD called "Joe & the Blue Butterfly" (1998). Davids is currently working on the first authentically created American Indian opera — in the entire history of opera — called "The Trial of Standing Bear" with librettist Marcie Rendon (Anishinabe).
About The Premiere
Grandmother Song was premiered in 2002.
Listen/Watch